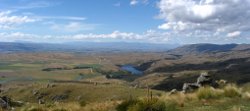 The Upper Taieri River catchment in central Otago, New Zealand is currently undergoing long-term changes in the way water resource consents are managed. Farmers in this region are taking these changes as an opportunity establish a community led strategy for collective management of water rights and resources. Over the past few years, the farmers have been participating in regular community meetings to establish a collaborative group, and to share and discuss ideas that range from techniques for irrigation at the individual farm to broader issues related to rights management and the development of a catchment-wide resource management scheme.
Through 2008 and early 2009, a project was run through Universisty of Otago with support from the New Zealand Landcare Trust that sought the participation of local farmers to engage in dicusssions about water resource management in the Upper Taieri using MapChat. The project took place in four phases. F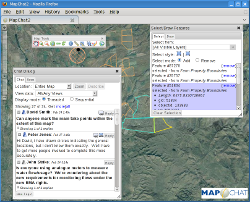 irst, key individuals from the community were contacted and interviewed to establish a diverse group of farmers with a stake in the outcomes from any changes to the allocation and management of the Upper Taieri water resources. Second, using MapChat, the farmers individually developed maps for their own farms to illustrate current irrigation systems, as well as maps that represent possible changes to these systems in near-term and long-term future. The last phases involved group-oriented use of the MapChat application in face-to-face workshop settings (phase three) and online-only over a period of two weeks (phase four). During these latter phases, the farmers used MapChat view each others' farm maps throughout the catchment, and use the real-time chat and drawing tools to discuss issues related to irrigation practices and the development of a community-led scheme.
Related Publications:
| | |
| --- | --- |
| | Hall, B., & Leahy, M. (2011) "Map-chatting within the Geospatial Web", chapter in Li Songnian, S. Dragicevic and B. Veenendaal (eds), Advances in Web-based GIS, Mapping Services and Applications, Taylor and Francis, London. |
| | Hall, B., & M. Leahy (2009) "Multi-user Web Mapping with Open Source Components: MapChat Version 2.0", poster presentation, 11th GEOIDE Annual Scientific Conference, Vancouver, B.C. |
| | University of Otago (2008) "MapChatting Online", He Kitenga: 2008 University of Otago Research Highights |
| | Leahy, M., & B. Hall (2008) "MapChat", research exhibit, Mystery Creek Fielddays, Hamilton, New Zealand (poster|brochure). |
| | Hall, B., M. Leahy, & R. Feick (2008) "The Upper Taieri Watershed Management Project: a case study using MapChat", poster presentation, 10th GEOIDE Annual Scientific Conference, Niagara Falls, Ontario. |